Below are the slides of the presentation given at the Village Consultation on September 9th.  Please read the whole presentation, complete the Consultation Reply form and return it to the Post Box at the Old Vicarage by September 30th. Thank you.
To share what needs to be done
To consider the cost
To outline the plan
To answer questions
To discuss
To make decisions
To celebrate the 900th anniversary of St Edmund's 
in a building that is warm and comfortable, 
ready and equipped for ongoing use 
as a place of Christian worship
fellowship and learning
art & music
local history & heritage
 In the chancel - a self contained chapel seating up to 24 people
A glazed screen with door between the chancel and the nave.
In the nave - a multi-use auditorium seating up to 70 people
At the west end - a well designed open space appropriate for many  uses, including a new baptismal area, the walls surrounded by storage cupboards and with simple refreshment facilities
An emergency exit from the church into the churchyard through the re-opened south doorway; the door will be glazed to bring additional light and warmth into the building
An accessible toilet and cloakroom in the tower
A glazed screen between the ringing chamber and the nave 
Also
Facilities for exhibitions, audio/visual presentations and learning activities 
including a viewing screen for the bell ringers 
A new financial strategy benefitting from user charges, event income and increased donations 
A long term care and maintenance plan established against a projected income stream 
in order to provide for repairs, upgrading and the ongoing use of the new amenities
Three phase electricity
Renewables: Installation of PV in churchyard and landscaping
Dismantling of old system
Re-plaster & decorating
New electric heat emitters and control system.
Dismantle vestry 
Move and replace pews and pew ends
Create storage cupboards
Refreshment area
Flooring
Glass screen & doors between chancel and nave
Installation of toilet
Water & drainage 
Fire alarm system
Continued:
Stacking tables and chairs
Audio/visual system 
Exhibition system
Storage shed (in churchyard)
REOPEN THE SOUTH DOOR WAY
Move font? 
Ground levelling
Archeology
Replacement stone columns
Door(s) Glass/timber?
Flooring and finishing
We could raise the money ourselves.
"How many coffee mornings would it take to make £200,000?"
We could apply to the Heritage Lottery Fund for a Heritage Grant. 
We do look after a valuable piece of the nation's heritage. 
Heritage Grants are for projects that will cost over £100K.  The HLF also have smaller grants programmes.
We could apply for smaller amounts from a vast array of small funders and apply to one of the other HLF funds 
e.g. 'Our Heritage' for projects under £100K
Or we could do nothing at all.
The HLF is interested in three things:
The future of our heritage
How our community will benefit from its investment in our heritage
What we as individuals will get from, and do with, their investment in our heritage.
The work that will go on to adapt our building and install much needed facilities is almost incidental to how we intend to discover, interpret and share our findings.  Any application for funding has to be accompanied by a programme of activities that help people to better understand the heritage. It is called 'Interpretation'
If we add the cost of interpretation to our shopping list the cost of our project is likely to rise to about £250K or more. 
The HLF want a contribution of 5%. (£12,500) But this can found from benefit in kind or volunteer action. 
The good news is…….We have that!!!
To be successful we would need to put forward a fantastic interpretive programme and we would have to commit to supporting it
A church cannot be really understood if it is separated from its parish and people. Historically Stoulton has always been an agricultural parish.
Our aim should be to link together and tell the the story of our Christian, community and agricultural heritage.
We propose to run a series of interlocking projects that will lead up to a festival of history and heritage in 2020.
A project to record and share the story of the church and parish.
1. Create and publish online a collated catalogue of archives pertaining to the parish of Stoulton for the benefit of schools and lifelong learners.
TASKS include:
Research

Creating a timeline of Stoulton history

Transcribing documents that fill out the story

Translating documents from Latin or French.
2. Use the archives and evidence still to be seen in the church and community to re-enact incidents from the 'Story of Stoulton' on video, for the benefit of visitors to the church and parish.
TASKS include:
Creating story and writing scripts

Researching country/church music and song through the centuries

Researching and making/hiring costumes and other effects

Production and directing

Filming and editing

Managing participants

Providing refreshment. 
 A project to develop a culture of care for the heritage of the church and parish 
1. Run a series of talks and workshops on heritage buildings, their care and maintenance, featuring the work going on in the church and the re-opening of the south door.
TASKS include:
• Attending the talks and taking part in the workshops on heritage buildings.
2. Digitally recording in sound and image the capital works going on in the church to illustrate some of the issues involved in the care and maintenance of historic buildings.
TASKS include:
Considering and communicating the issues involved in the choice and care of materials

Carrying out and recording interviews with experts

Videoing the work of specialist tradesmen as the carry out their tasks

Editing all into an interesting short but informative video.
3. Work with families to develop heritage detectives' quests around the parish.
TASKS include:
Helping with a children's 'Heritage Detectives' School'

Taking photographs

Preparing craft materials

Preparing an Information Library

Learning about and making wonder cards.
4. Creating trails for walkers to help them explore the parish.
TASKS include:
Identifying appropriate footpaths

Linking to visible heritage

Developing the stories

Communicating with owners and people who will be affected.
5. Upgrade the amenities of St Edmund's to enable it to function as a base for these and other activities in the future.
TASKS include:
Working with architects and other specialists to develop plans and working drawings

Getting faculties and permissions

Getting the funding

Sorting health & safety issues

Appointing tradesmen

Caring for the people and the building.  
6. Initiating associated arts activities.
TASKS include:
Designing the etchings for new glass fittings
Running workshops - painting, photography, art and poetry.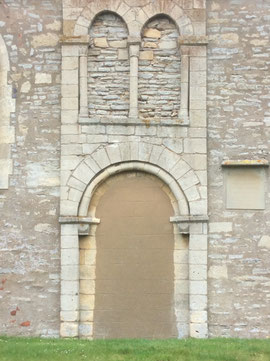 EXAMPLE
Reopen the South Doorway
Attend
Talks, 
Visits 
Demonstrations 
Workshops 
Do we do this ourselves, bring in the professionals or mixture of both?
There are many ways to interpret a place. 
Ideas of what will might do?
Make Videos
Create a Parish Chest
Make a Visitor Map with walks
Develop a mobile phone ap
Run a festival of local history and heritage
A promotional project to bring visitors into Stoulton to discover and enjoy its history and heritage and to contribute to the economic and social wellbeing of the community.
TASKS include:
Making a geographic map of the parish and its environs

Adding information to the map to promote local facilities and the trails around the parish

Event preparations

Promotional activities for the festival

Training guides and welcomers

Sorting out ticket sales etc. 
Some examples of activities that might be part of the 'Stoulton 900' programme 
The premier of the Stoulton story videos
The official opening of the south door with video
An exhibition of art and reading of poetry created as a response to the reopening
A ceremony to make heritage knights of children who have solved mysteries of Stoulton's past.
Festival services and feasts to mark the traditional church and agricultural year. e.g. Plough Sunday
900 years of music and song. Afternoons of singing.
Walks along the footpaths of Stoulton including the 'Beating of the Bounds' followed by a Parish Supper.
An event featuring the bells.
A special Community Event yet to be determined.
A conference to evaluate and plan for the future.
If we go down the Heritage Lottery Fund Heritage Grant route.
December 2017.  
Submit a Round 1 application to the HLF.
Winter 2017/18.
Create an alternative fundraising strategy.
March 2018,    
If successful with HLF application - enter the development stage including bringing together research, creating a parish timeline and identifying the stories we want to tell.
December 2018
Submit a round 2 application to the HLF
March 2019
If successful with HLF application - enter the delivery stage
April 2019 - December 2019
A busy time!
January - December 2020
A Festival of local history and heritage to celebrate the900th anniversary of St. Edmund's.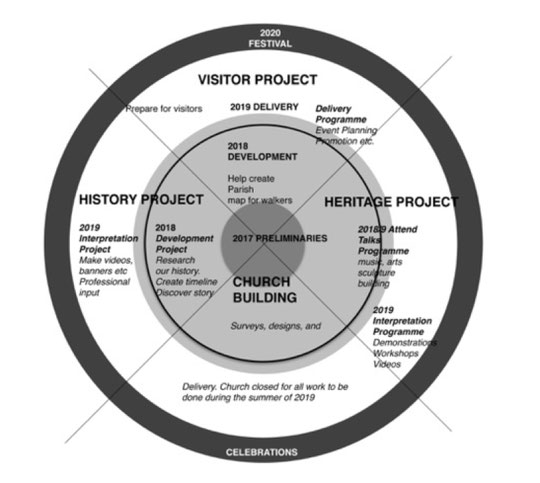 The timetable in diagram form.
When completing your response form please indicate which activities most interest you. We recognise that it will be difficult to commit to activities that will make place some many years in the future. Just think
All other things being equal I would like to do ........
Consultation response form
Please download, complete and return your response to the Post Box at the Old Vicarage or email sandymarchant@uwclub.net
Questionnaire.pdf
Adobe Acrobat Document
79.7 KB